Accommodations
Boston Marriott Quincy
1000 Marriott Dr, Quincy, MA 02169, USA
(617) 472-1000

Ask for the Berlenbach/Monaghan wedding block.
Transportation will be provided from the Marriott to the ceremony, reception, and then back to the Marriott after the reception.
**Please note that due to town restrictions, there is no overnight parking in the town of Hingham.
Travel and Transportation
Boston Logan International Airport
1 Harborside Dr, Boston, MA 02128, USA

About a 20 minute ride to the Boston Quincy Marriott
Things to Do
Hop-On Hop-Off Trolley Tour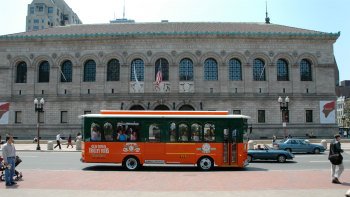 200 Atlantic Avenue, Boston, Massachusetts 02110

Explore Boston's colonial past and thriving modern side with a hop-on hop-off trolley tour. Take advantage of discounted admission at area attractions, see the city at your own pace with unlimited rides, and enjoy a flexible route that features 18 stops throughout town.
Hop on the Old Town Trolley at any of its stops and take a seat while your engaging guide and narrator regales you with entertaining and educational anecdotes about Boston's past. Get to know Boston's iconic institutions and roam its lively districts, from the waterfront to the Back Bay.
Jump off at the Boston Tea Party Ships and Museum to delve further into American heritage, explore historic sites like the State House and Paul Revere's house, take a stroll along the 2.5-mile (4-km) Freedom Trail, or get caught up in Red Sox fever at Fenway Park.
Grab lunch from a food stand in downtown's Quincy Market or take a respite in the Arnold Arboretum—the country's oldest. If you want to do some last-minute souvenir shopping, cruise to the world-class boutiques and galleries on Newbury Street. Take advantage of your included map to help you find your way around town, and redeem coupons for discounted access to some of Boston's sought-after sites.
Route stops include:
New England Aquarium and Faneuil Hall Marketplace
Historic North End and Little Italy
USS Constitution and Charlestown Navy Yard
Old State House Museum
Cheers "The Original"
Boston's Historic Ballpark
Cambridge, MIT, and Harvard Square
Charles Street and Antique Row
Boston Tea Party Ships and Museum
Liberty Wharf
Boston Duck Tours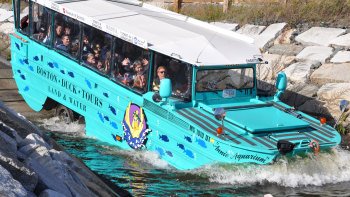 Museum Of Science Driveway, Boston, Massachusetts 02114

Explore Beantown with a hilarious ConDUCKtor® behind the wheel of an amphibious World War II vehicle. Ride the DUCK by downtown landmarks like Faneuil Hall and the Freedom Trail, and then ease into the water for a scenic cruise along the waterfront of the Charles River.
Climb aboard the open-air DUCK and take a seat as your ConDUCKtor sets off for a quacks- and laughs-filled tour of Boston by land and by sea. Pass by the gold-domed State House, ride past the fashionable shops of elegant Newbury Street, check out the food vendors of Quincy Market, and gaze up at Bunker Hill's monument to the famous Revolutionary War battle that took place there.
Break out in song as you pass the pub where Cheers was filmed—everybody there may not know your name, but you definitely know the tune. Check out Old Ironsides as you approach the water—the USS Constitution was named by President George Washington, circled the world in the 1840s, and has stood proudly in the Charlestown Navy Yard since she was retired in 1881.
From there, splash into the river and putter along the waterfront. These waters are where revolution-era Bostonians famously filled the harbor with tea. Admire the Boston and Cambridge skylines and listen as your drive and guide shares entertaining tidbits, little-known facts, and entertaining anecdotes about the city's nearly 400-year-old past.
Historical Sightseeing Cruise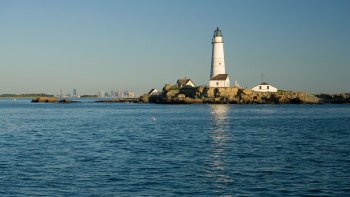 1 Long Wharf, Boston, MA 02110

As you cruise along the Inner Harbor and out into the greater Boston Harbor, take in the city skyline and closer views of both historic and modern structures. Hear tales of the Revolutionary War and anecdotes about the buildings you pass during your 90-minute cruise.
On your way out of the Inner Harbor, pass the many wharves and docks that make up Boston's working port. Pass Castle Island, home to Fort Independence, as you cruise farther out into Boston Harbor. Approaching your turn-around point of Long Island, you see Boston Light—the nation's oldest continuously manned lighthouse—in the distance.
As you head back to Long Wharf, see the mouth of the Charles River, known for its 3 Gridley Locks, which can be crossed via the Boston Harborwalk.
Boston Harbor Cruises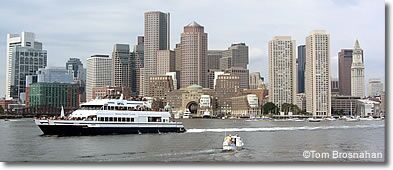 30 Shipyard Dr, Hingham, MA 02043, USA
(781) 749-8009

Take a 30 minute boat ride into Boston! Enjoy scenic views of Massachusetts's South Shore as you ride into Boston Harbor. 5 minutes from downtown Hingham to the boat yard! Great for a day in the city without having to worry about traffic. Boat runs until around 10 PM.